De Castillia 23
De Castillia 23 by Urban Up, Gruppo Unipol, Milan
The sustainable building that looks to the future

The De Castillia 23 project was created using the BIM process, compiling, combining and digitally connecting all relevant construction data.

The Milan integrated design studio was therefore able to increase the structure's functionality, energy performance and overall efficiency, returning to the city of Milan a building in line with its exalted surroundings.

Over the last ten years, the Garibaldi-Repubblica neighborhood has undergone redevelopment, aiming to link it to the city after it had been isolated for thirty years due to the construction of the rail network. Progetto CMR previously worked on Torre Garibaldi in 2008. De Castillia 23 continues in this direction with an even greater challenge, giving a new lease of life to a building which was left unfinished for 15 years.

The complex, owned by Gruppo Unipol, comprises two structures 53 and 15 meters high. Some structural elements have been maintained, while the first two floors above ground level, originally intended as parking areas, have been converted into offices to increase the available working space. The existing access ramp was demolished to free up a large area of the ground floor, making it fully accessible from outside.

However, the most striking aspect of the renovation is the prismatic facade with triangular-shaped glass walls in a checkerboard effect, which creates dynamic movement. Each is at a different angle to produce diverse light effects, depending on how light is reflected. This design feature gives the building greater dynamism, even when not full of life inside, with an interplay of solids and voids that also provide ventilation to the structure.

For the external facade, Progetto CMR requested a lighter background to reflect light contrasting with a darker color, to add character to the two blocks. Fiandre Architectural Surfaces' porcelain Active Surfaces® surfaces were chosen. The decision to use porcelain tiles on the facades, balcony flooring and external areas was due to their aesthetic beauty and the durability of this material. Available in finishes suitable for different applications, these offer clear advantages in terms of practical performance (anti-slip where necessary) and ease of cleaning.

Porcelain tiles were installed using the Granitech ventilated facade system® with visible anchoring brackets, a solution that ensures the buildings' long life, especially high-rise buildings, wall durability and energy efficiency. An air chamber between the wall and cladding creates natural ventilation, which offers substantial benefits in removing heat and moisture, and also excellent comfort inside. It also eliminates thermal bridges, with consequent energy savings, and maintains the efficiency of the external insulation over time since optimal ventilation keeps it perfectly dry. Other advantages of the Granitech® ventilated facade system include eliminating the risk of cladding cracking or detaching from walls due to delamination, as well as protecting the wall structure itself from the weather. Ease of installation and the ability to carry out maintenance on an individual tile are two further advantages in terms of time saving and reduction in costs.

Attention to detail was at the forefront of installing Fiandre ceramic surfaces, with 45° shaped corners for all edge pieces on the building and different finishes, smoother or rougher depending on function. Downpipes were concealed in the columns behind the facade system for cleaner lines. For a waste-free yet beautiful aesthetic appearance, after examining various installation patterns for the facade the emphasis was on 120x60 cm format, to optimize cutting the ceramic tiles and guarantee using the whole tile without any waste.

De Castillia 23 by Urban Up, Gruppo Unipol, was also designed to be an example of sustainable architecture. This objective was achieved due to a series of informed choices. First and foremost, by using photovoltaic and geothermal systems which produce energy and heat without releasing pollutants into the atmosphere. The photovoltaic system generates about 40,000 kWhel/year of clean energy, while an extremely high-efficiency groundwater heat pump produces geothermal energy to cool and heat the offices.

This green building philosophy also governed the choice of porcelain tile cladding, since the recyclable material does not erode the planet's resources and is produced by a company that returns all production waste back into the process.

One of the most innovative features of De Castillia 23 is the type of tile chosen for the facades, balcony flooring and outdoor areas, namely Active Surfaces®.

A technology patented by Iris Ceramic Group, to which Fiandre belongs, which transforms ceramics into eco-active surfaces with four superior properties: antibacterial, antiviral, self-cleaning, anti-polluting and anti-odor. This produces major advantages for the building complex. First and foremost, the surfaces are dirt-repellent, and therefore can be cleaned simply with water and a mild detergent with no need for toxic or expensive chemicals. Their use on the external facade, and continuous exposure to light and weather make this property particularly effective, as simple rainfall keeps the facades clean. In addition, the external coating is able to convert volatile molecules of hazardous pollutants such as nitrogen oxides (NOx) and volatile organic compounds (VOC) into harmless substances, with huge benefits for human well-being.

According to the Department of Chemistry, University of Milan, the 16,088 sq.m. of special Active Surfaces® tiles installed on the project counteract 59 kg/year of nitrogen oxide, equivalent to over 200,000 sq.m. of green space, bringing huge benefits for those who live in the neighborhood. Based on these estimates, De Castillia 23 can be called a "smog-eating" building.

Progetto CMR's Research and Development team confirms that a further 2,000 sq.m. of actual green space will absorb approximately 12 tonnes of carbon dioxide each year and release 9 tonnes of oxygen.

The common theme of research into environmental and social well-being also governed interior design. Progetto CMR architects' designs make the offices brighter with natural light from large balconies which offer shade in summer and light in winter. The end result is a 30% increase in diffused light and 36% increase in global light (direct + diffused) light compared to a standard building, which translates into a reduction in the use of artificial light and therefore energy consumption. Porcelain surfaces were also chosen for the interiors: for bathroom tiling due to its anti-slip and easy-clean properties, an important factor in a room where hygiene is paramount.

"The result is a state-of-the-art, sustainable complex", says architect Massimo Roj, Progetto CMR CEO. "More importantly, the building has finally been returned to the community and, due to the client's foresight, will be a newfocal point in a Milan which looks to the future".


Gallery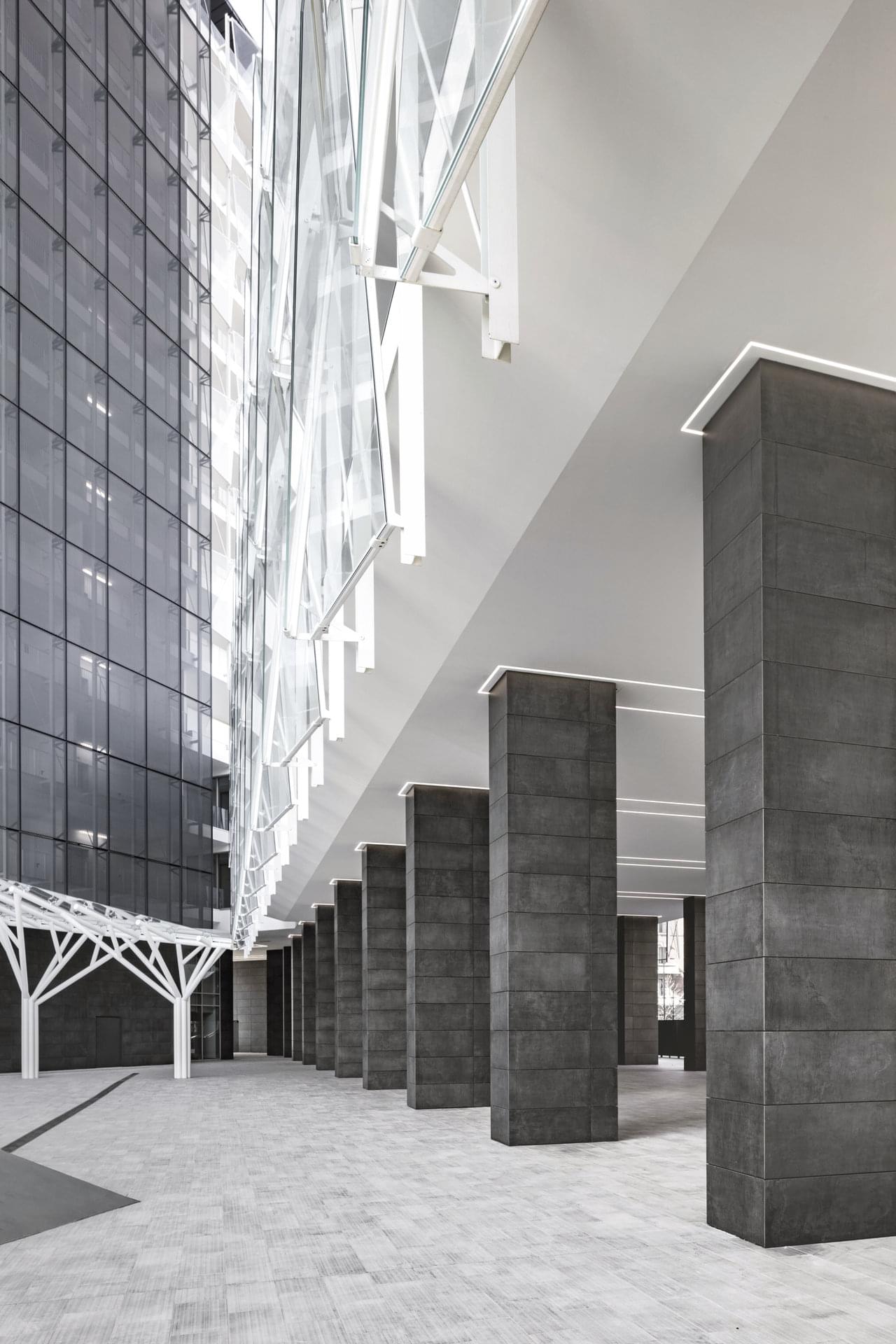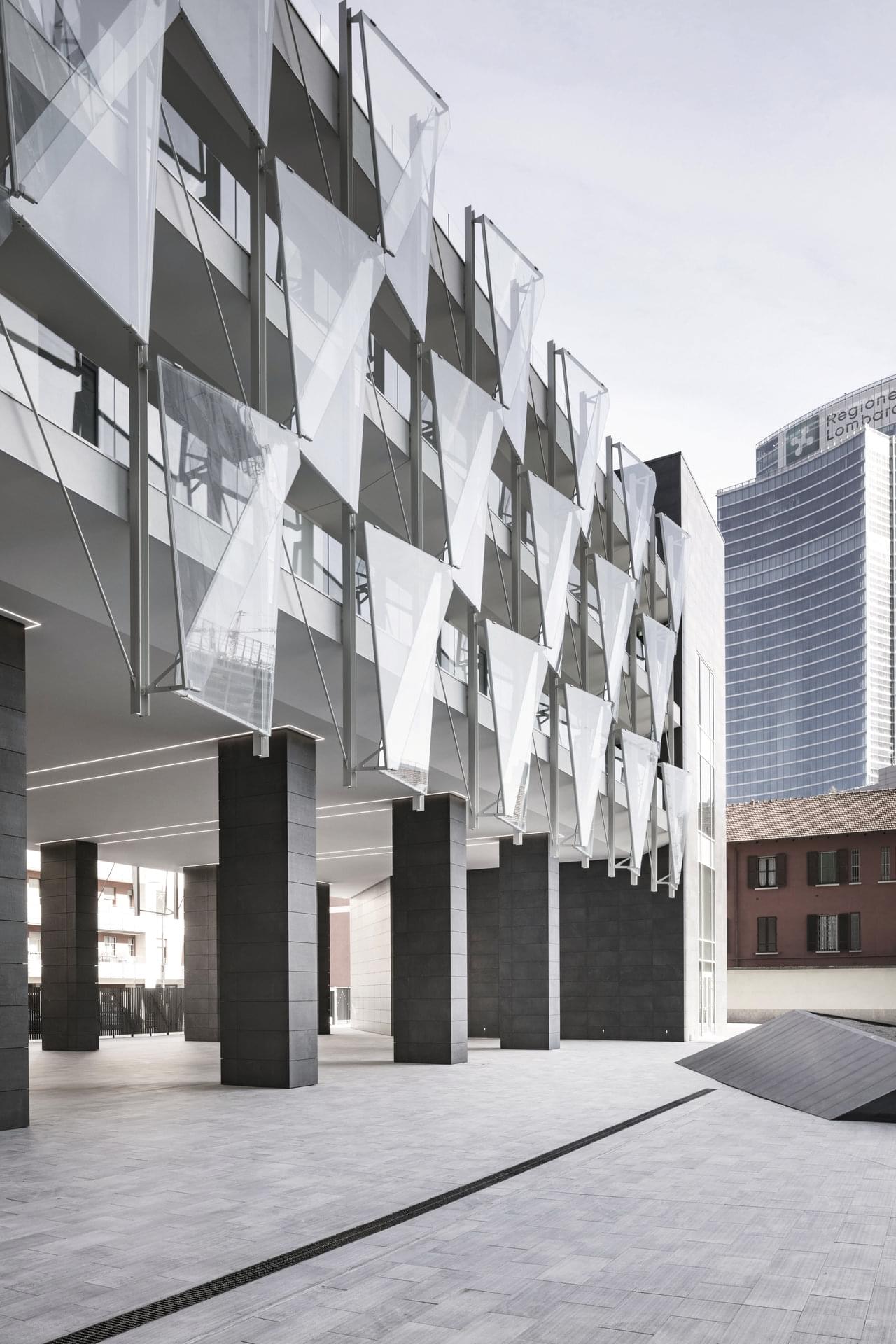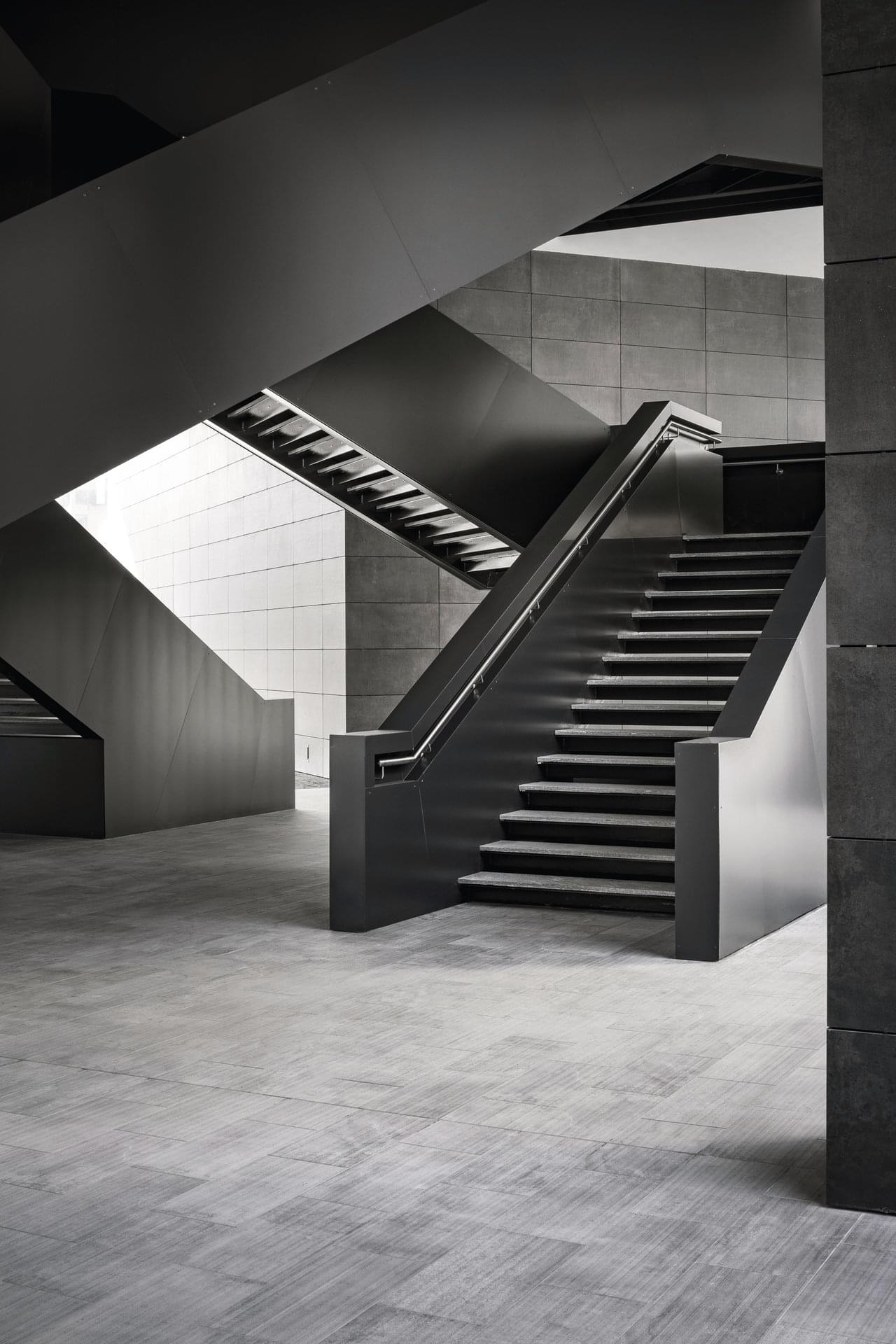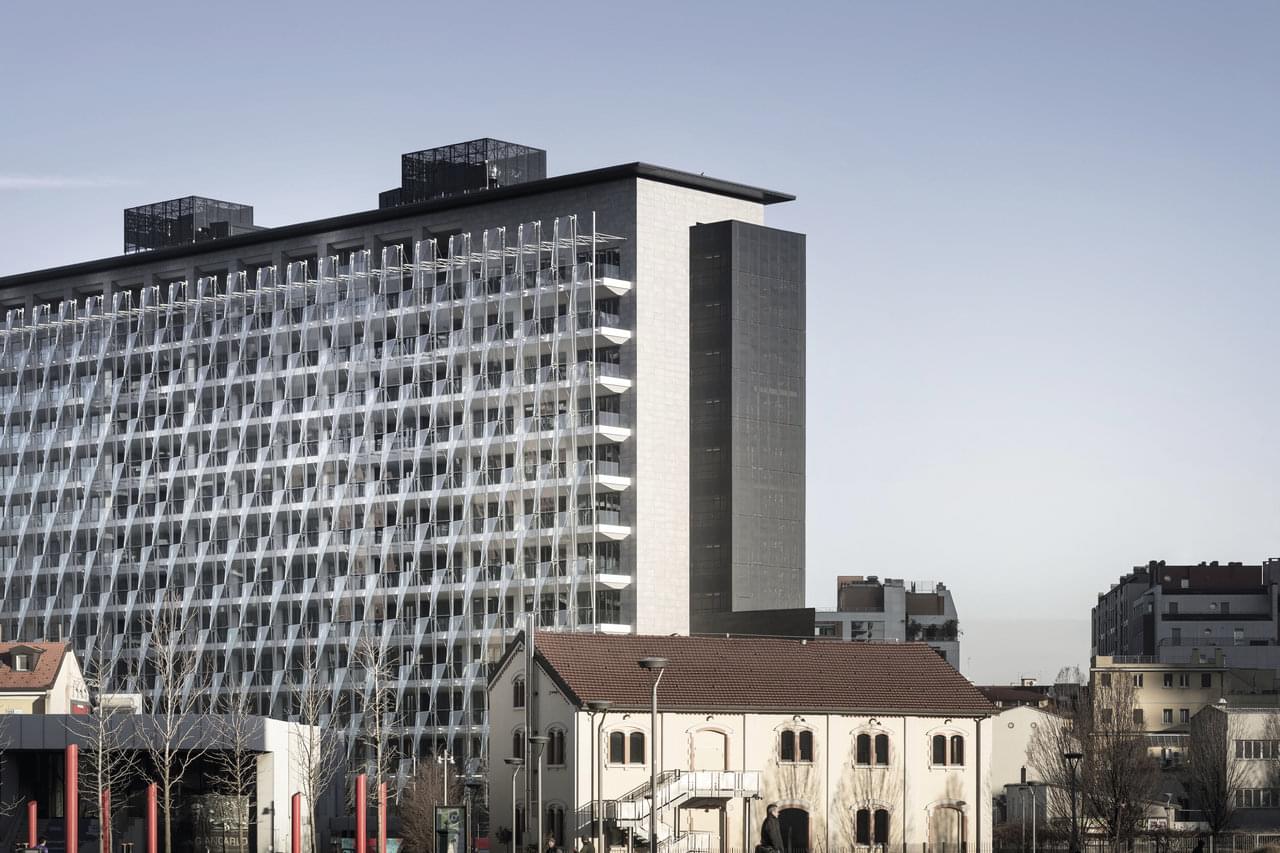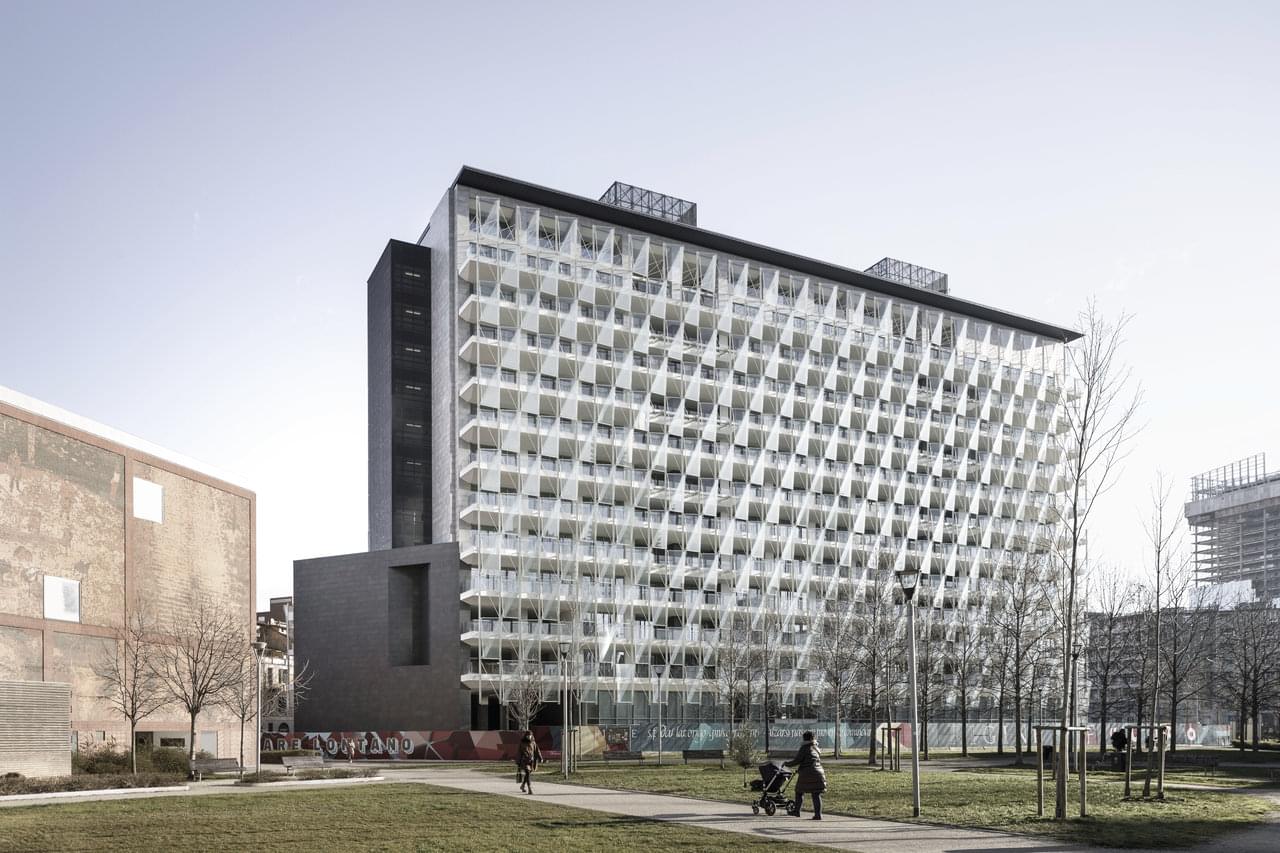 Discover all applications