NEW ACTIVE SURFACES® ADVERTISING CAMPAIGN LAUNCHED
"Where design and science meet, beauty and well-being live". New ACTIVE SURFACES® poster created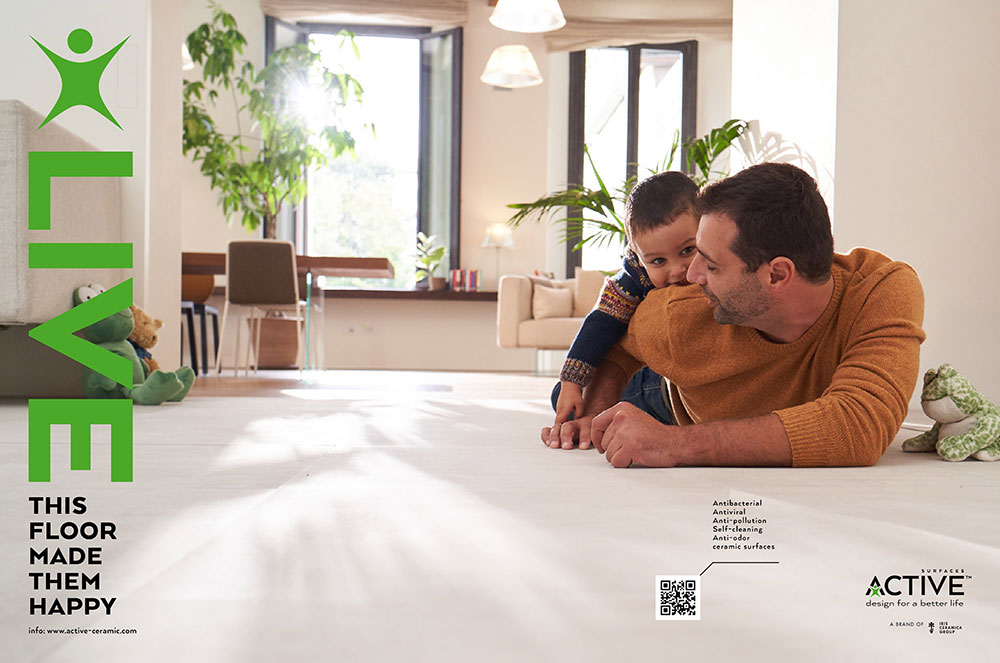 To mark the product rebranding of the group's most visionary project, Iris Ceramica Group has launched the new ACTIVE SURFACES® advertising campaign.

The new "ACTIVE SURFACES® - design for a better life" payoff summarizes the mission that drives this project: to create products of high aesthetic value that at the same time improve the mental and physical well-being of the individual within the spaces. The intention is for ACTIVE SURFACES® to contribute to a beautiful, healthy and safe world for all. ACTIVE ceramic porcelains are designed to offer people the freedom to inhabit every space better, enjoying the beauty of design, while taking care of their well-being.

The human figure regains its central role in an advertising campaign based on the theme of the sense of freedom evoked by the "LIVE" imperative that accompanies the images. A multi-subject visual proposal that illustrates four different contexts: an outdoor public area, a swimming pool, a home environment and a local bar. Four typical situations where, thanks to the presence of ACTIVE SURFACES®, people can inhabit safer and more beautiful environments in complete freedom. Four separate contexts, inhabited by as many different categories of people, united by the freedom of mind to enjoy that precise moment, because they are able to do so safely. A positive message underlies the entire campaign: the functions of design and science can really be brought together to help improve the quality of human life.

Come and discover the ACTIVE SURFACES® campaign.