THE FIRST ACTIVE SURFACES® SHOWROOM OPENS IN CASTELLARANO
A cutting-edge project to showcase the Iris Ceramica Group's most innovative product.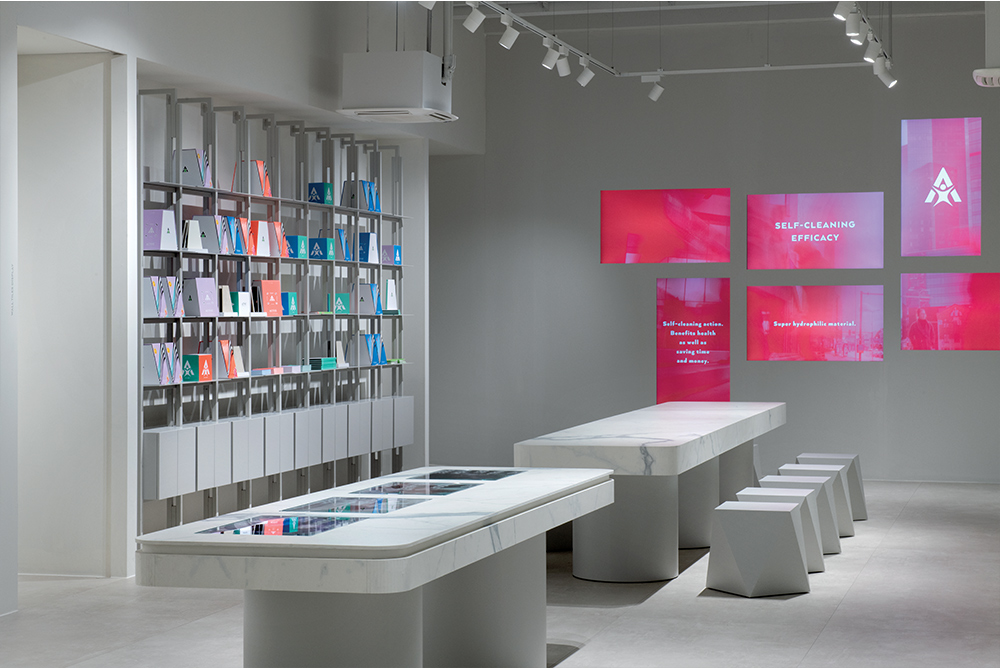 Any presentation of ACTIVE SURFACES® cannot fail to highlight all the many aspects that make it such a globally unique product: design, science, effectiveness and credibility. Ten years of research and presence on the market deserve to be presented in an exclusive space.

This is the first showroom entirely dedicated to the emblematic product of Iris Ceramica Group's ability to remain steadfastly at the forefront of its industry has opened its doors.

The initial impression is of a visually uncluttered, ethereal and welcoming space. Thanks to our eco-active surfaces applied to the floors and walls, and used to make the furnishings as well, there is a tangible feeling of being welcomed into a luxurious environment.

In addition to being able to admire the aesthetic appeal of the widely displayed ACTIVE products, visitors can learn about the extraordinary features of this product by following a clear and intuitive communication path that ends with an exclusive immersive entertainment experience.

"Where design and science meet, beauty and well-being live".

Design and science are the twin souls of ACTIVE SURFACES® displayed in a venue specifically designed to exhibit them: the more aesthetic and communicative representation of ACTIVE is flanked by a section dedicated to illustrating the credibility of this project, resulting from 10 years of scientific research and thanks all our customers across the world who have chosen and continue to choose ACTIVE SURFACES®.

Contact us to visit the new ACTIVE SURFACES® showroom in complete safety, we'll be delighted to welcome you.