INAUGURA A CASTELLARANO IL PRIMO SHOWROOM ACTIVE SURFACES
Un progetto all'avanguardia per raccontare il prodotto più innovativo di Iris Ceramica Group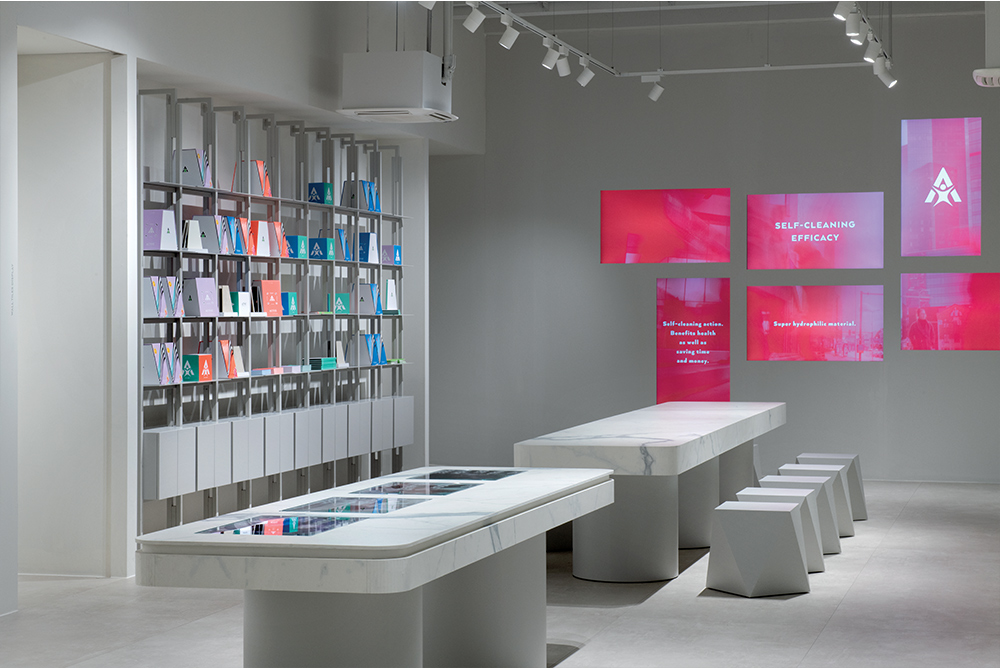 Presentare ACTIVE SURFACESTM significa toccare i molteplici aspetti che lo rendono un prodotto unico al mondo: il design, la scienza, l'efficacia e la credibilità. Dieci anni di ricerca e presenza sul mercato necessitano di un luogo per essere raccontati.

Nasce così il primo showroom interamente dedicato al prodotto emblema della capacità di Iris Ceramica Group di essere sempre all'avanguardia. Il luogo offre un impatto visivamente arioso, etereo e accogliente. La sensazione di essere accolti in un luogo salubre è tangibilmente percepibile, grazie alle nostre superfici eco-attive applicate a pavimento e a rivestimento e utilizzate per realizzare anche gli arredi.

Oltre a poter ammirare la pregevolezza estetica dei prodotti ACTIVE ampiamente esposti, il visitatore viene guidato all'apprendimento delle caratteristiche straordinarie di questo prodotto attraverso un percorso di comunicazione immediato ed intuitivo che culmina con un'esclusiva esperienza di intrattenimento immersivo.

"Where design and science meet, beauty and wellbeing live".

Design e scienza sono le due anime di ACTIVE SURFACESTM rappresentate all'interno di un luogo pensato ad hoc per accoglierle: alla rappresentazione più estetica e comunicativa di ACTIVE si affianca una sezione dedicata alla credibilità di questo progetto, costruita attraverso 10 anni di ricerca scientifica e grazie a coloro che in tutto il mondo hanno scelto e continuano a scegliere ACTIVE SURFACESTM.

Contattaci per visitare il nuovo showroom ACTIVE SURFACESTM in totale sicurezza, saremo lieti di accoglierti.