A MILANO UN ALBERO UMANO PER DIRE "TORNIAMO A RESPIRARE"
BE ACTIVE BE A TREE è l'appello partito dalla rete che oggi ha chiamato a raccolta in Piazza Duomo oltre 600 persone per difendere il diritto di respirare con un grande gesto simbolico: essere parte del più grande albero umano mai esistito.
Un messaggio eco-responsabile trasmesso con una grande performance ideata da Giuseppe La Spada, digital artist riconosciuto a livello nazionale internazionale, che Active, il super-materiale che ripulisce l'aria dagli ossidi di azoto come un albero, lancia al mondo.

Le fotografie e il video di Piazza Duomo con al centro il più grande albero umano mai esistito faranno infatti il giro del globo attraverso i canali della rete, per replicarsi nelle piazze delle maggiori città del pianeta… perché respirare è un diritto globale.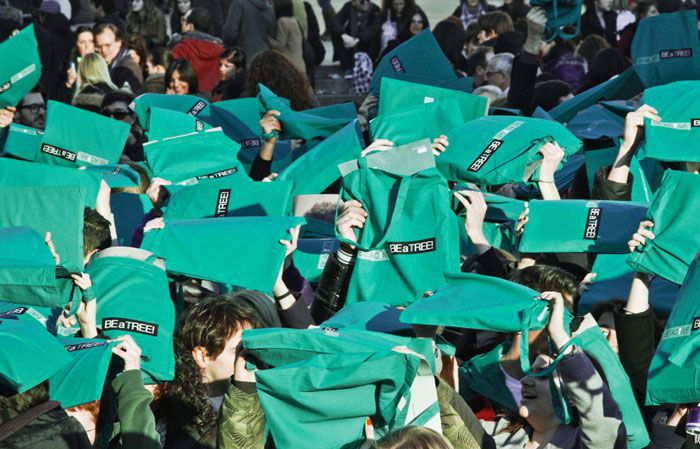 "BE ACTIVE BE A TREE! È una vera e propria mobilitazione eco-responsabile che ha come ambasciatori principe i Gruppi GranitiFiandre e Iris Ceramica, la cui sensibilità nei confronti dell'ambiente ha portato allo sviluppo di un super materiale in grado di ripulire l'aria dagli ossidi di azoto come un albero:
Active Clean Air & Antibacterial Ceramic™, l'innovativo rivestimento per pareti e pavimenti eco-attivo, antinquinante e antibatterico che è la traduzione concreta di questo messaggio" Ha dichiarato Graziano Verdi, Presidente e AD dei gruppi GranitiFiandre e Iris Ceramica.

BE ACTIVE BE a TREE! È un'idea di Giuseppe La Spada, artista digitale e creativo, da sempre molto sensibile alle tematiche ambientali, unico italiano a vincere, nel 2007, un Webby Award grazie ad un progetto "eco friendly" sviluppato in collaborazione con il noto musicista Ryuitchi Sakamoto.

BE ACTIVE BE a TREE!
Sabato 5 febbraio 2011
Dalle 16.00 - P.za Duomo, Milano Iscriviti alla Fan Page su Facebook